Started in March 2017 and partnering with MANNA and Feeding America, the SMCC Food Pantry is operated by dedicated volunteers, and with generous donations from our local churches and community.
Food Pantry Distribution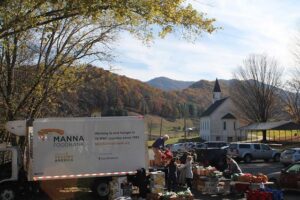 SMCC Food Pantry
NEW! Food Pantry contact number is 828-515-4474. Please be aware that you may need to leave a message for a return call if you do not reach a food pantry volunteer.
Our pantry will be on the 2nd Friday of each month from 9:30 a.m. to 11 a.m. and will continue to be a drive-up distribution. Our pantry dates for the 2022 – 2023 year are:
Use the Calendar Scroll Bar to load more dates
** Please do not arrive early**
Each month, when available, we try to have meat, milk, eggs, bread, non-perishable foods, drinks, pet food, seasonal produce, personal care items, and much more.
To protect all recipients and volunteers from exposure to COVID-19, we are following CDC and MANNA guidelines. We have instituted a drive up, no contact pantry and volunteers will be pre-making all the boxes and bags of produce and meat. Please do not arrive early.
Clean out your trunk or the back of your truck to make sure you have room for your box and bags. We will not be placing items inside of people's cars.
When you arrive, a volunteer will direct you to where you need to line up.
Have your trunk open and ready to receive the pantry items.
Do NOT get out of your car or truck.
When you reach the front of the line, a volunteer will place the pantry items in your trunk or the back of your truck.
After receiving your items, you will need to leave the SMCC property. There will be no gathering on the SMCC grounds or parking lot.
For any questions or if you would like to volunteer, please e-mail: [email protected]
Inclement Weather Policy
In case of inclement weather on the 2nd Friday of the month and the Leicester schools are delayed or closed, our distribution will start at 12 noon on the same day.
Donations to Food Pantry
Please consider donating non-perishable items to the Sandy Mush Community Center Food Pantry. The SMCC Food Pantry also appreciates monetary donations, which will be used for the operation of the food pantry.

Thanks for supporting our SMCC Food Pantry!
MANNA Foodbank, 627 Swannanoa River Rd., Asheville NC https://www.mannafoodbank.org/
Full Sun Farm, 90 Bald Creek Rd., Leicester, NC https://www.fullsunfarm.com/
Paynes Chapel, Sandy Mush Creek Rd., Leicester, NC
Chestnut Grove Baptist, Bald Creek Rd. Leicester, NC
Big Sandy Mush Methodist, 393 Big Sandy Mush Rd. Leicester NC
Jones Valley Baptist, Big Sandy Mush Rd., Leicester, NC
New Beginnings Christian Fellowship, 876 New Leicester Hwy #4, Asheville NC http://www.inbcf.com/
Asheville Human Society https://www.ashevillehumane.org/
The Community Foundation of WNC https://cfwnc.org/
United States Post Office, Stamp Out Hunger Food Drive
Canton Food Lion
Food Lion Feeds Charitable Foundation
Thermo Fisher Scientific