We are seeking input regarding any veterans who have ever resided in Big Sandy Mush. Vance Garrett suggested and initiated this Veterans' Project and several community members are helping out with gathering the information. We currently have more than 230 Veterans' listed, but we are certain that there are others we have not yet listed. We also want to make sure we list anyone currently living in Big Sandy Mush who served our country. Please help us spread the word regarding this project, and send us names of those who have served. Please see the parameters of who we plan to include below the photo.
Please email information to Terri Wells at [email protected]
Name of service member.
Branch of Service.
War, if served during wartime.
Your contact information for follow up questions.
We plan to create a recognition wall at our Sandy Mush Community Center to recognize their service. We appreciate your help!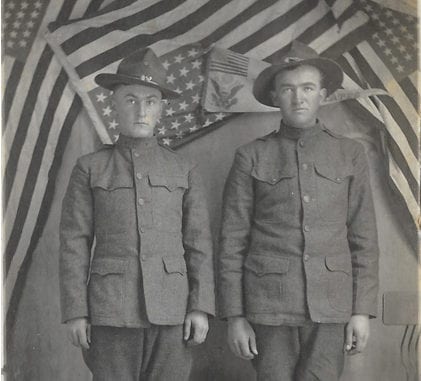 Veterans' Project Parameters:
1.) Veterans who have resided in Big Sandy Mush** at some point from birth to final resting place.
2.) Define boundaries of Big Sandy Mush as: Top of Early's Mtn. to top of Beaverdam Mtn. to where Sandy Mush Creek Rd. meets Hwy. 63.
3.) We include persons who served in the active military, naval, or air service who were discharged or released therefrom under conditions other than dishonorable.
USA – United States Army
USN – United States Navy
USMC – United States Marine Corps
USAF – United States Air Force
USCG – United States Coast Guard
We are also including National Guard and Reserve.
ANG – Air National Guard
ARNG – Army National Guard
AFRC – Air Force Reserve Command
USARC – Army Reserve Command
USNR – Navy Reserve
USMCR – Marine Corps Reserve
USCGR – Coast Guard Reserve
**Please note that we do not wish to exclude anyone, and we would eventually like to include everyone in the greater Sandy Mush area. But in order to do so we would need others to help from the community; our current volunteers feel that they are best equipped to focus on Big Sandy Mush, even this is a much larger undertaking than first anticipated. Thanks for your understanding and any assistance you can provide.