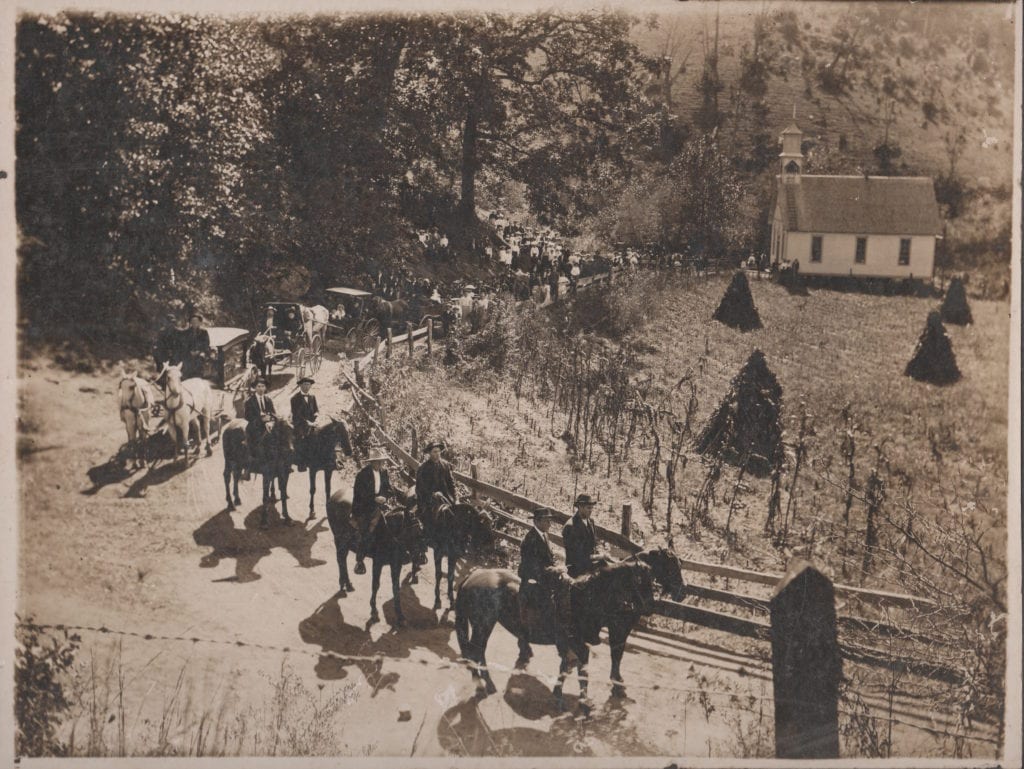 Shown in this 1907 photo is the funeral procession of Jonathan Cody Woody (1881-1907). The horse drawn hearse and funeral procession is proceeding along Sugar Creek Rd. in the direction of Big Sandy Mush Rd. Pictured is the original Jones Valley Baptist Church, which was built in 1901 and washed away in the flood of 1977. The service took place at Jones Valley Baptist Church, with burial following at the church cemetery located up the hill (at present day Jones Valley Baptist Church). The pall bearers were Ralph Hayes, Jess Ball, Ed King, Jess Keener, Back Robinson and Crawford Clark, all pictured on horseback.
Jonathan Coyd Woody was born January 29,1881 to James Bailey Woody and Cassie Frisbee Woody. He grew up in Sandy Mush, and moved to Mountain Home, Idaho in 1900. On a return trip home in August of 1907, he married Essie King of Sandy Mush, daughter of James Marion King and Harriett Black King. He returned to his farm in Idaho with his new bride, but within a month he had contracted Typhoid fever and died September 30, 1907. He was transported home to Sandy Mush via rail, with service and burial on October 9, 1907.
Also of historical note in the photo, are the corn shocks in the field on the front side of the church. Once the corn was cut at the ground, the corn was piled into a shock, thereby allowing the corn stalk and the ear to dry out. Once dry, the corn stalks would typically be loaded on a sled and taken to the barn for storage until being fed to the cows in the winter. This farming practice was replaced by the use of silos.
Thanks to Bert Abrams for sharing the photo and information, to Neal Woody for sharing the photo with Bert Abrams and to Greg Brookshire for sharing additional historical details regarding J.C. Woody.